Finally it's OUT! We present to you "
VOICES FROM NEXT DOOR
"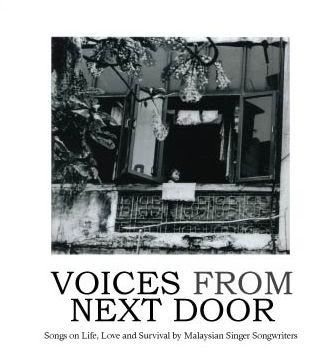 That's what the cover of the CD looks like. For those who don't know what it's all about, it's the compilation CD we've been working on for the past few months, featuring 24 songs by 24 solo singer songwriters and bands, most of who have played at our shows previously. We're so happy to finally get it yesterday from the CD printers. Yippee!
We previewed some of the tracks off it on the Sunday night Clash radio show on Red FM 104.9, with Daryl Goh and Zack Yusof the past two weekends. Those of you who heard it will know that it's choc-ful of goodies! Yes!
For now, it's available personally from the three Troubadours (Azmyl, Jerome and Sei Hon) for RM30 each. We'll update you when it'll be available in the stores - we're still sorting our distribution. If you don't know us, come to any of the Troubadours gigs. We'll be there!
The tracklisting for the CD is as such:
CD1
01. Broken Scar – Venus In September
02. Izzy Mohamed – Pelangi
03. Yuri – Red Dress
04. Sherry – Sighyoung
05. Jasemaine Gan – Syurga Di Bumi
06. Rizal Hefni – Some Time For Yourself
07. Fathulistiwa Soundscapes – Sendiri
08. Jerome Kugan – Song For The Service Industry
09. Meor – Hari-Hari Autistik
10. Warren Chan – I Won't Forget
11. Rhapsody – So Scared
12. Ian Chow – It's OK
CD2
13. Mei Chern – Do You See Me Like You
14. Tan Sei Hon – These Days
15. Zack Yusof – 24 Hours
16. Izuan Shah – Endless Summer
17. Azmyl Yunor – Flesh
18. Oddstar – Andai
19. Nightlife Camera – No Pretending
20. Estrella – Take It Slow
21. Imam – I Don't Know What It Is
22. Ariff Akhir – When I Am King
23. Ida Lisa – Breakthrough
24. Reza Salleh – A Relic Is What I Live In
Also, please also look out for the official CD launch party... we haven't got a date yet for now... but soon!